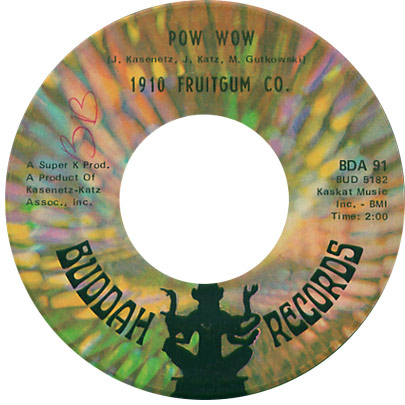 The story of "Bring Back Howdy Doody"
Both sides here are versions of a song originally titled "Bring Back Howdy Doody," written by Steve Dworkin and Gary Willet.

Track 1 is a directional reversal of the recording -- there titled "Pow Wow" -- found on the flipside of the 1910 Fruitgum Company's 1969 hit "Indian Giver." As that flipside, in a move typical of producers Jerry Kasenetz and Jeff Katz's attempts to ensure promotional focus on their chosen "plug" sides, was itself a reversed version of the original recording, the reversal here only restores the track to its natural direction (and hence our jokey retitling of "Wow Wop").

Track 2 is another version of the same song, which in this case was released under the original title of "Bring Back Howdy Doody."

Co-creator Steve Dworkin tells the story behind these differing versions:
Steve Dworkin:

In 1969 I was a staff writer/producer at Super K Productions. I had written "Bring Back Howdy Doody" as a joke, not expecting Kasanetz and Katz to go with it. At one point, K and K sent my partner Gary Willet and myself into the studio to record as many "bad" records as we could in one day, including "Bring Back Howdy Doody." The session was to be used as a tax writeoff.

Gary and I recorded it entirely by ourselves, at A-One Studios in New York, with him on keyboards, me on drums and lead vocals, and both of us on backing vocals. Believe me, had we known the track was going to be released we would have made it a lot better!

I was in the office when the first pressings of "Indian Giver" came in. I flipped it over, because Super K was known for putting nonsense or private jokes on their B-sides. I recognized it right away as our recording of "Bring Back Howdy Doody." Of course, we were a little pissed that we weren't even given writing credit.*

Shortly afterward, Gary and I were attempting to leave Super K, because we had gotten an offer from another company. Some DJs had been playing "Pow Wow," and when they heard it was a song about Howdy Doody they added it to their playlist. When K and K heard about this, they went into the studio with a group who had recorded an album for them as Lt. Garcia's Magic Music Box, and recorded "Bring Back Howdy Doody." This was then released on the Bell label, under the name The Flying Giraffe. I thought it should have been done in a little bit more of a progressive style, since the kids who listened to bubblegum didn't know Howdy Doody. I was not, however, involved in this recording.

When the Flying Giraffe record came out, Bell sent us a box of them. Through a cousin who worked at NBC, I was able to get Buffalo Bob Smith's address, and sent him a copy of the record along with a letter telling him that all the kids who grew up with Howdy Doody were now in their late teens and early twenties, and would probably love to see him out there again.

The record got some airplay, but it wasn't a hit. I did get a nice handwritten, two-page letter from Buffalo Bob, which made it all worthwhile, and soon after he starting touring colleges.

After I left Super K, I tried to get financial backing to go into the studio to record a heavier version of "Bring Back Howdy Doody," a la Steppenwolf or perhaps Three Dog Night. I wasn't able to get it done, but that's the way it should have gone if it was to appeal to the people who grew up with Howdy Doody.
*wr. cr. for 1910 Fruitgum Co. version: Kasenetz-Katz-Gutkowski; wr. cr. for Flying Giraffe version: J. Kasenetz-J. Katz-S. Dworkin-G. Willet

Many thanks to Steve Dworkin for his help with this project.